Yosemite National Park
While I am sharing my personal experiences at Yosemite, it is your responsibility to evaluate your own outdoor knowledge and abilities, as well as your medical and physical conditions, and independently determine an appropriate level of intensity for your own outdoors experience. When visiting public lands please follow Leave No Trace Principles. Respect and preserve the parks by packing out your trash, staying on marked trails, following proper safety guidelines, and being responsible with fire. Finally, educate yourself on the history and native peoples of the land you are enjoying, and what you can do to support their use of the land today.
Yosemite National Park is one of my favorite places in the world. it's truly breathtaking in it's size and scale, and for good reason it has inspired generation after generation with it's beauty. While I have previously recapped my short weekend in Zion National Park , I thought for Yosemite I would just share my favorite hikes as well as general recommendations for the park, leaving the ability to add on over time. I haven't hiked or camp in nearly as many places as I'd like yet, but this list is a great place to start.

East Yosemite:
Hike: Cloud's Rest
Location: Off Tioga Road at the West end of Tenaya Lake. Small parking lot with pit toilets and around 15 parking spaces.

Length: 14.5 Miles Round Trip

Elevation Gain: 1,775 feet (540 meters)

Difficulty: Strenuous. There is a roughly 2 mile stretch of 1000 feet elevation gain on switchbacks about 1 mile and a half into the hike, and it's all uphill from there. The out and back hike ends with a very narrow, very steep ridge with a dramatic drop off to the valley below; be smart and hike in dry weather (no rain, no snow!), and don't try any crazy acrobatics for a photo. It's not worth the fall. There are also two points on the trail you may need to cross running water: it should be dried up by mid summer, but be careful during spring.

The Views: (Usually) Spectacular. From the top of Cloud's rest, you should have an incredible view of the most famous peaks in Yosemite: Half Dome, El Capitan, North Dome, Tenya Lake and more. Unfortunately, the week Mark and I hiked Cloud's Rest, the Yosemite Valley was actually closed due to the #fergusonfire in Summer 2018. As a result our views (and honestly, our lungs) we're pretty restricted by the hazy, grey blue wildfire smoke. On the upside, we were some of the only people out on the trails that day, making for a beautiful, if somewhat eerie experience at Yosemite. On the downside, we could barely see anything at the summit, and the smoke and 9000 foot elevation combined to have both of us feeling a little woozy and worse for wear at different points in the Hike.

Recommendations: This is an amazing hike, but please, be realistic about your fitness level and preparation for a hike of this intensity. It's far, it's hard, and especially in the summer large parts of the hike are in direct sun. Start early, wear a hat and sunscreen, and bring and drink a ton of water. We did all those things, and I still felt like my legs were full of concrete the next day! Have fun, enjoy, and you know...don't fall off a cliff.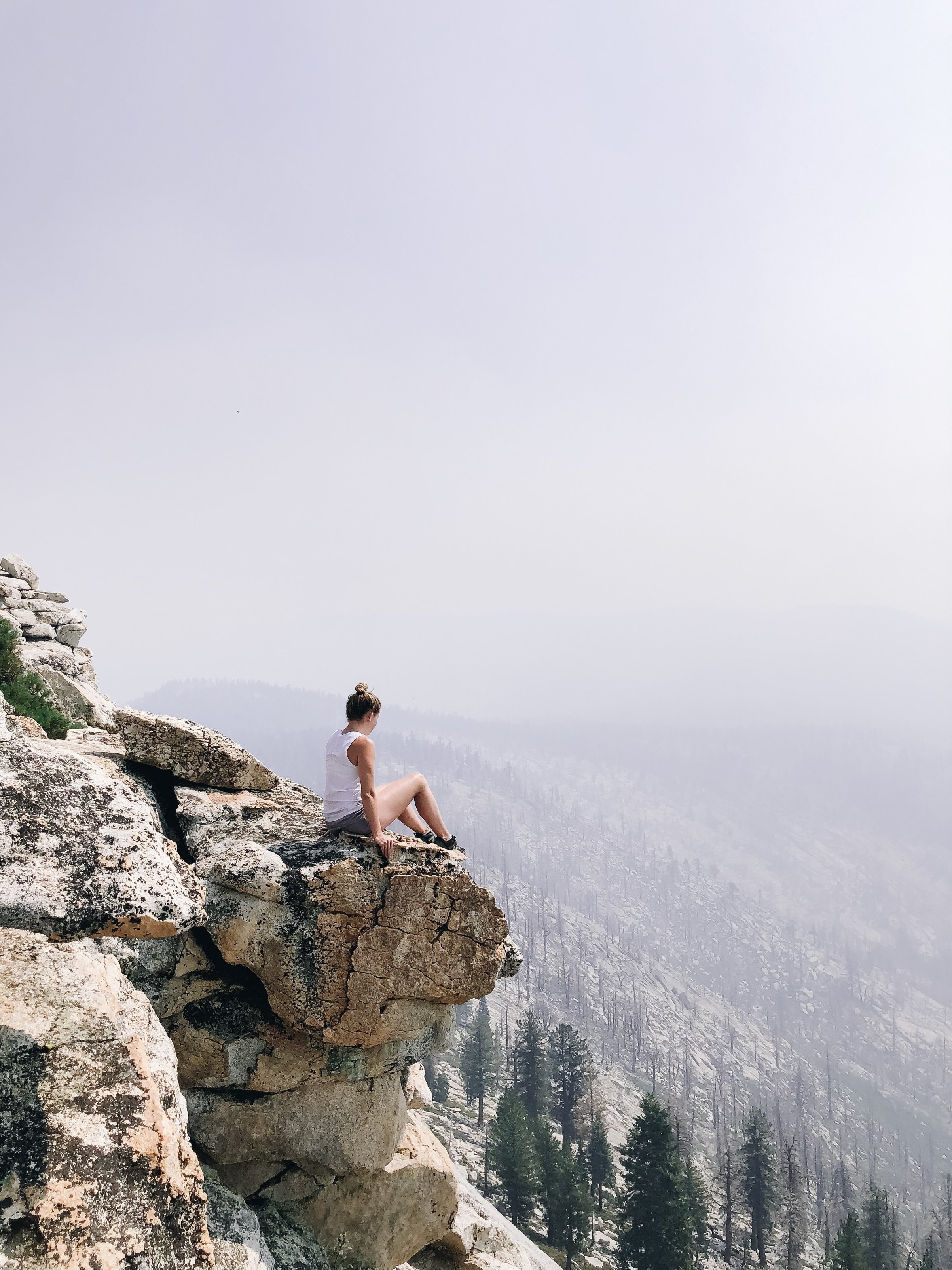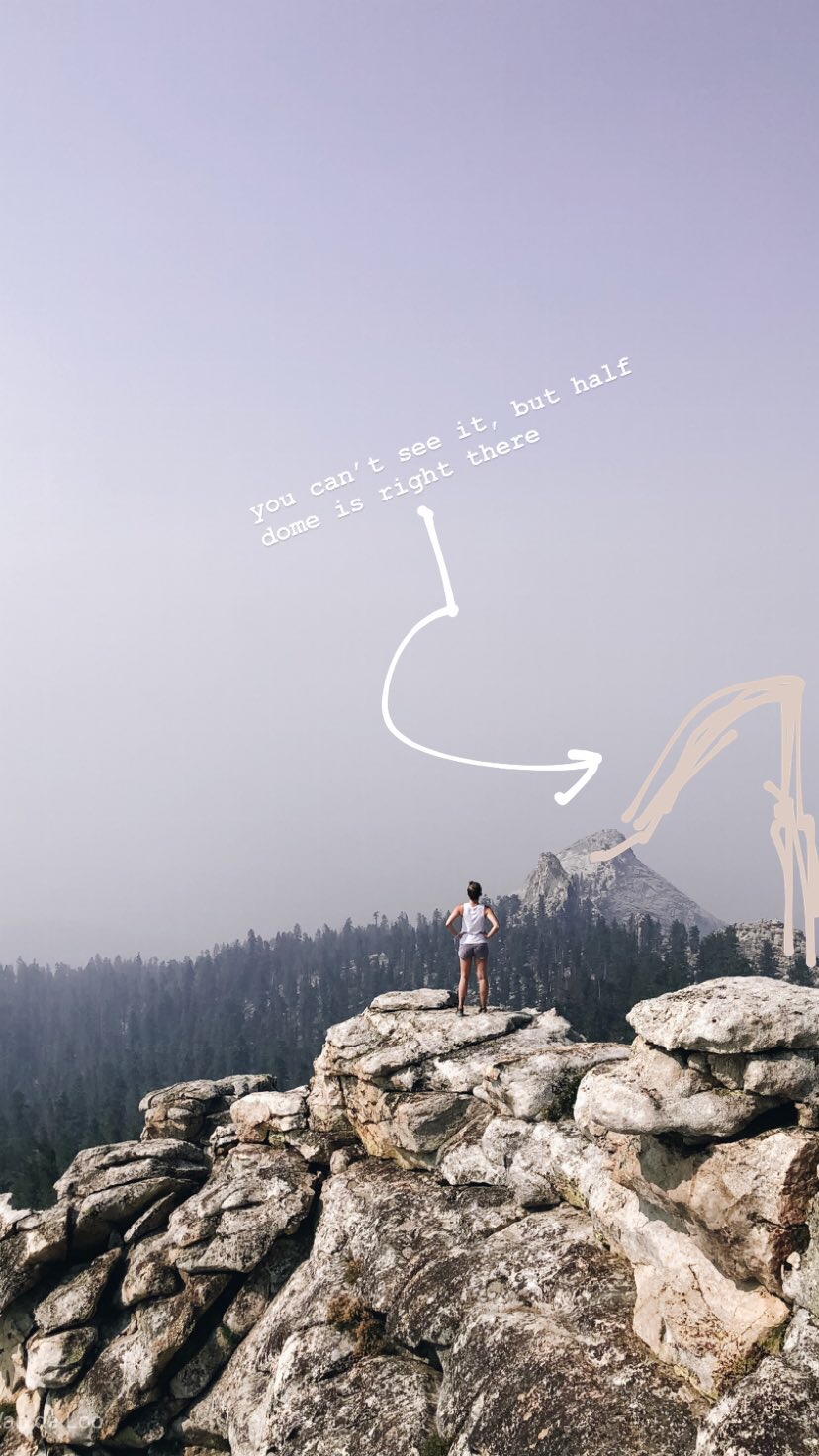 Camp + Visit: Tuolumne Meadows
Location: About 8 miles from Yosemite's East Entrance at Tioga Road.

Length: 2 miles, give or take.

Difficulty: Easy.

Views / Sights: Beautiful views of East Yosemite, including Tuolumne RIver, Soda Springs, and Lembert Dome.

Recommendations: Depending on your activity level, Tuolumne Meadows is a beautiful way to see some of the high sierra wilderness of the park with out too much strain (On our visit, we saw a 12 point buck and it's baby, as well as some small scampering fox looking animals— really breathtaking). If' you're a more seasoned hiker, the meadows are great for an easy day after a hard hike. Don't miss:

Camping: For our Visit in Summer 2018 we drove up from Los Angeles through the central CA valley to the East entrance of the park (about 6 hours), and car camped in the Tuolumne Meadows campground . We got there in time for a 2 hour stroll around the meadows, and then a quick dinner + early night to get up and hike' Clouds Rest before first light. It' was a little chilly for July, but 1000% would recommend a Tuolumne Meadows + Clouds Rest Itinerary.
Yosemite Valley
Hike: The Mist Trail (Vernal Falls & Nevada Falls) + John Muir Trail Section.
Location: Yosemite Valley: Start at Curry Village or the Vernal Falls Trailhead.

Length: ~4.0 to 6 Miles one way.

Elevation Change: 1200 feet (580 meters)

Difficulty + Accessibility : Moderate to strenuous, especially if you go all the way to the top of Nevada Falls. Some paved trails are available at the beginning of the trailhead, but it quickly becomes unpaved.

Views: Really spectacular; views of the two waterfalls, as well as views of the entire Yosemite Valley once you reach the top.

Recommendations: There are two ways to reach the top of Nevada Falls: The traditional "Mist Trail" continuing past Vernal Falls on the north side of the valley, or taking the right fork in the trail after the first falls and joining the John Muir Trail for a slightly longer trek up to the top with views of the Mist Trail the whole way up. We took the JMT path during our visit in January 2015 and absolutely loved it. While there were no trail closure signs at the time, we did encounter quite a bit of ice and snow and would recommend checking trail closures if you're visiting in winter or spring. Would recommend packing a lunch (and maybe a cold beer or two!) to enjoy at the top of Nevada Falls while you enjoy your views. Just remember to pack out all your trash and not to feed the animals!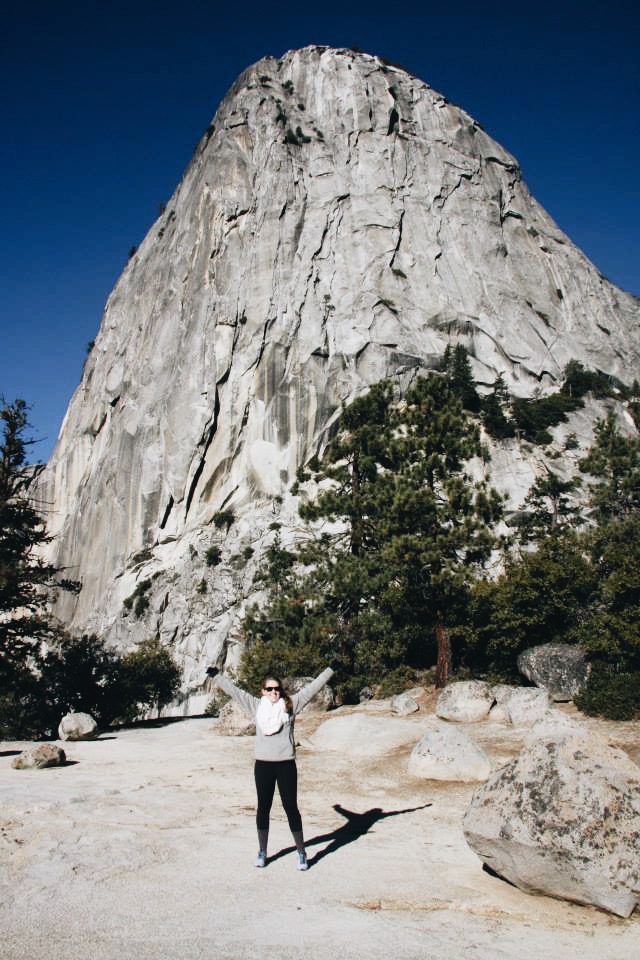 South
Visit: Mariposa Grove
Location: About two miles south of Yosemite Valley's main Entrance.

Length: ranges from 0.3 Miles to about 7.

Difficulty + Accessibility: Easy to Moderate; some paved trails available.

Views / Sights: The oldest and largest grove of Sequoia Trees in the US, including the 1800 year of Grizzly Giant, The Bachelor and Three Graces, and the California Tunnel Tree. The trees are absolutely stunning in their size and beauty, and absolutely worth a visit.

Recommendations: The Groves can get really crowded during the summer, so would recommend visiting out of peak season. We got up early our last day in Yosemite and did the roughly six mile Guardians Loop before driving back to LA. It was a beautiful and moderately strenuous walk that ended up being the perfect amount of movement before our long car ride home.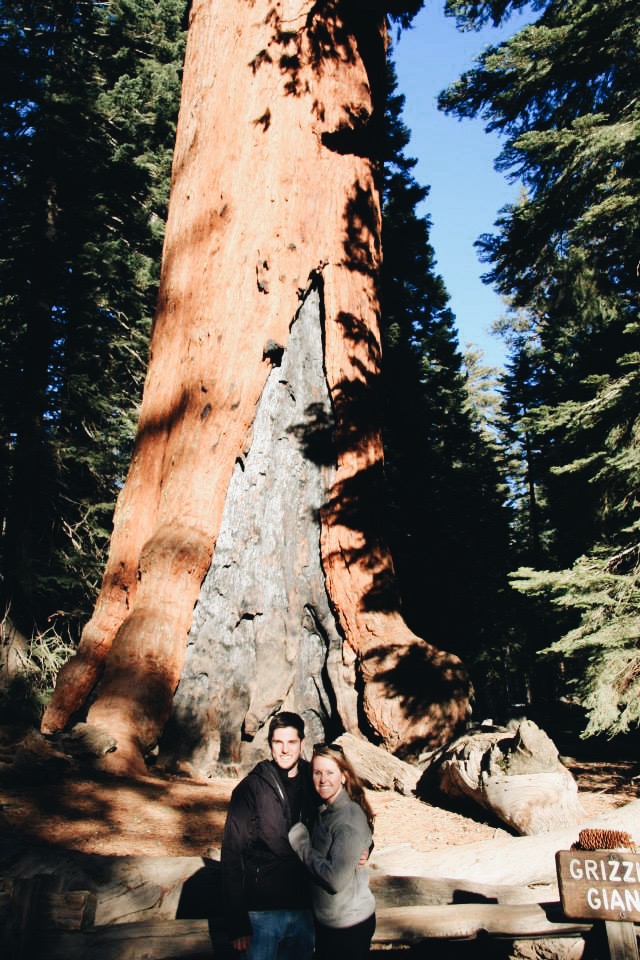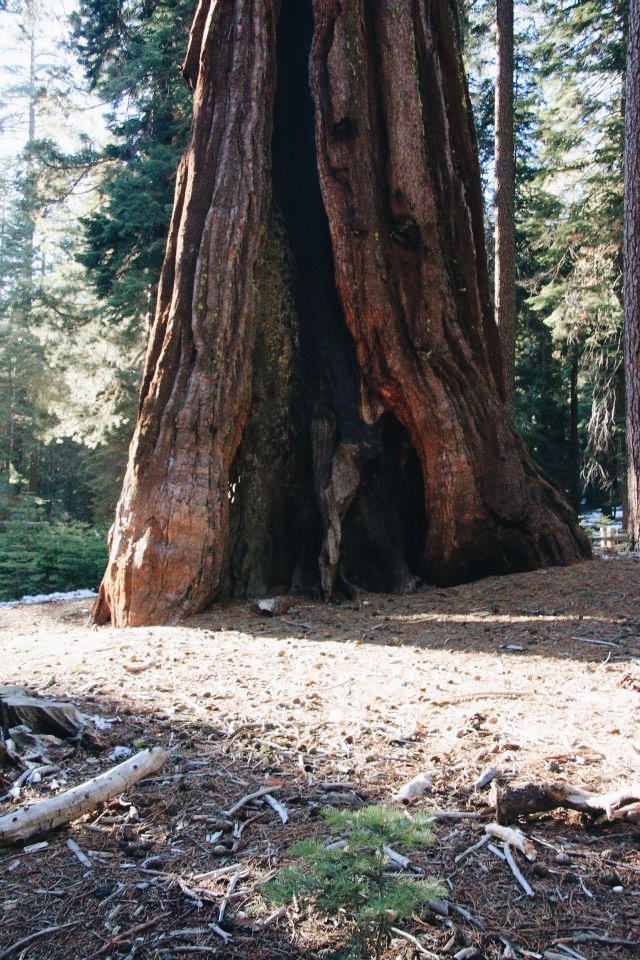 North Yosemite
Views + Hikes: Hetch Hetchy Reservoir
Location
Length : varies

Difficulty: varies

Views / Sights: What was once a mini-Yosemite Valley was flooded after an act of Congress in 1913, and now the Hetch Hetchy Dam and Reservoir provides the majority of water for the San Francisco Bay Area. The Dam itself is an interesting sight, with good views of the reservoir and the remnants of the valley to the west. For more natural views, Wapama Falls is a beautiful sight, and the area has it's own Sequoia grove as well.

Recommendations: After we hiked Nevada Falls / The John Muir Trail, (and after very very large cheese burgers) we showered and drove over to the Rancheria Falls trailhead to walk around, see the dam and the reservoir. It was a low effort, high reward outing after a really tiring day. Had we had more time we would have stayed to do the Wapama Falls Hike (about 6 miles round trip).
Land Acknowledgement for Yosemite National Park:

The Ahwahnechee or Awahnichi (″Yosemite Valley People″) are a Sierra Miwok people who traditionally lived in the Yosemite Valley, which they called Ahwahne (meaning "a large gaping mouth" and mistranslated by English Speakers as "deep grassy valley"). After the "Mariposa Battalion" drove out the Ahwahnechee people in 1851 the name Yosemite was chosen to name the area by a Battalion Leader who again, mistranslated the Awahnichi, thinking that Yosemite meant "Grizzly Bear" when it also potentially meant "Band of Killers" (in reference to the initial occupants of the valley by neighboring people.). Yosemite National Park was officially established October 1890, the first "National Park" in the United States.
From Indigenous Geotags:
The Ahwahneechee experienced multiple violent removals from the would be park beginning in 1851 when their villages were burned to the ground by the California Militia and ending in 1969 when their homes were again burned for a firefighting drill. Despite the U.S. government's claim that the Ahwahneechee are extinct, members of the tribe are still fighting for Federal Recognition and use of Ahwahnee for cultural practices. When you visit Yosemite, remember it is native land and fight with the Ahwahneechee for their right to use it. #publiclandisnativeland
Thank you so much for letting me share my experiences with Yosemite National Park with you! Would love to hear about your favorite places in the park- favorite hikes, camping spots or memories!